Chandler, AZ Cambridge and Monterrey Paver Installation
May 20, 2017 - Case Study, Pool Deck, Walkway
We completed the front yard with Belgard Cambridge Sedona and the pool deck with Monterrey Boulevard pavers.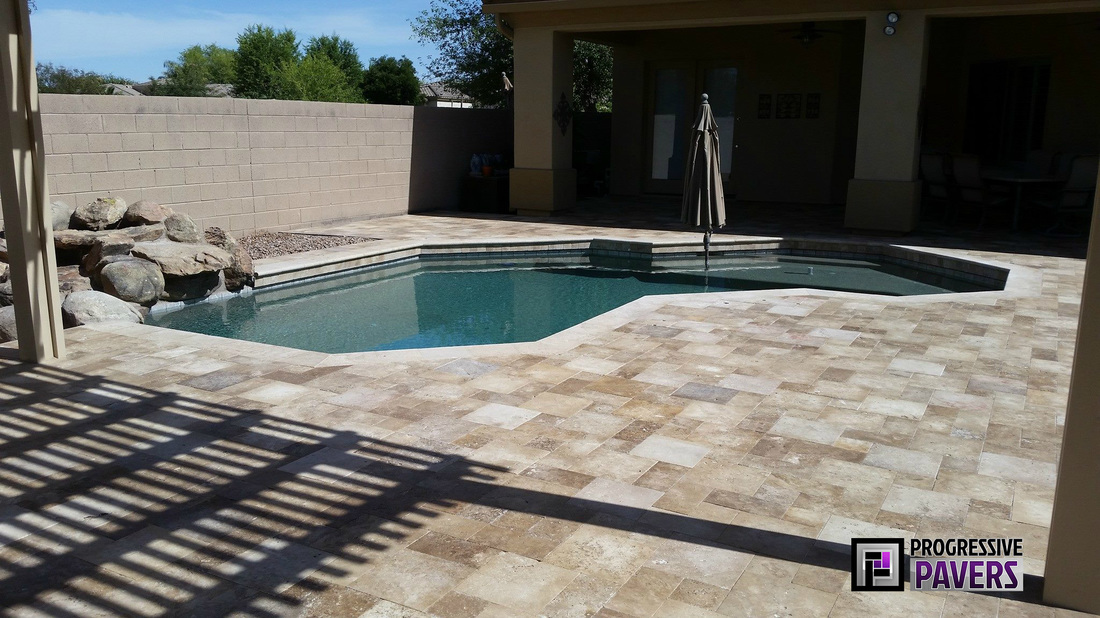 ​

​Paul and Laura were looking for a great way to avoid a traditional pool deck around their custom pool. While we discussed several options, ultimately, we decided that a caramel blend of Monterrey Torreon pavers would hit the mark. Once we completed the area around the pool, we then needed a bold entrance from the back gate to the pool area. For that we worked in a classic mix of Belgard Cambridge pavers.




About Boulevard Carmel Travertine Pavers
These classic light colored pavers are properly named for their distinct carmel candy look. The light browns and beige colors blend with each other seamlessly and the off-white colors contrast well. Since these stones come in all sizes ranging from 8×8 to 24×24 they can be used in any situation.
​
Why Travertine? 
​
Travertine pavers are always great for areas around a pool or a patio area. They come standard with a anti-slip surface finish; another benefit of installing travertine in Arizona is it stays cooler than most other pavers.  Travertine has been around 50 million years. It was good enough for King's palaces and roman coliseums, therefore it's no doubt you can trust it to stand the test of time; and the Arizona sun. 
About Belgard Cambridge Sedona Pavers
The Cambridge Cobble pavers are among the most versatile; they work well for walkways and patios, but they can also be used around a pools and are even ideal for vehicle traffic.

​There are endless combinations of colors and patterns to ensure you can find the right design for most any project.
​
Available sizes:  6×6, 6×9, 9×12 also available in other custom variable sizes.
YOU MIGHT ALSO LIKE THESE